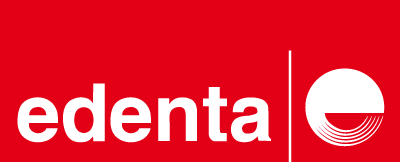 Edenta Silicone Polishers
▶
Edenta Silicone Polishers
▶
Edenta Ruby Trimmers
The EDENTA group of companies, a Swiss manufacturer, is one of the world's leaders of dental rotary instruments and other high quality rotary instruments. Their products are not only manufactured for the dental field, but also for applications in medical, surgical, podiatric, and jewelry industries and industrial mechanics.
Edenta was founded by Ingrid and Dieter O. Gratz in 1968. They developed and produced special polishers for dentists and technicians. ISO 9001 certification according to the EN 46001 standard was achieved in 1995, along with Medical Device Directive MDD 93/42/EEC. A new warehouse and logistics center was completed in 2001.
Product user advantages include excellent logistical backup, user-perceived and tested product development, and advanced manufacturing techniques. Edenta delivers its products to over 120 countries.
Pfingst & Company, Inc. distributes Edenta silicone polishers for use with their flexible shaft machines. The 3-step Goldstar Polishing System for precious alloys has set a new standard in polishing with its resultant high shine.