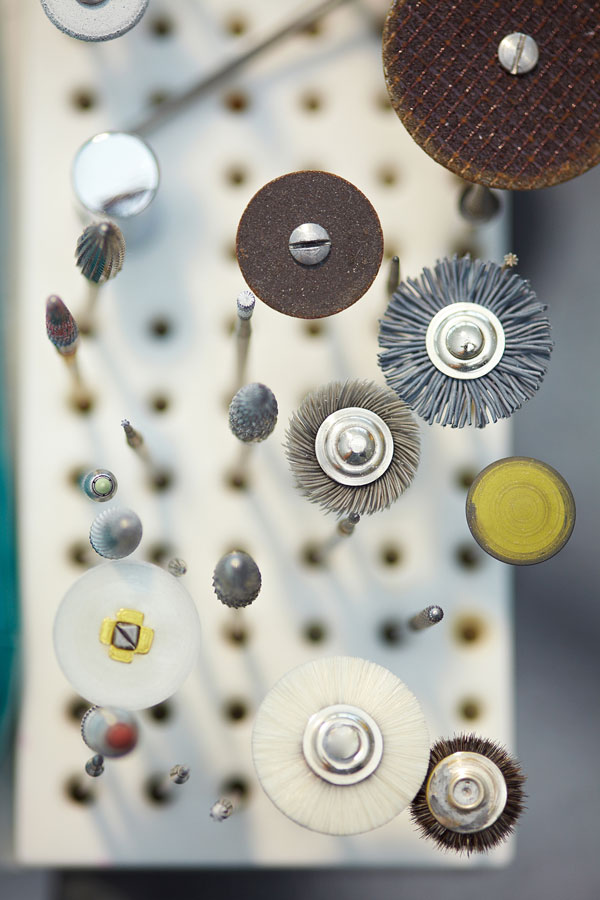 Bur Shapes
Burs are available in many diverse shapes. Each shape is designed for a specific task. Within each basic shape, such as round, there are other factors that influence the bur type. For example, the number of blades may vary or be closer or further apart, the cut may be single or crosscut, the head may be corrugated, or the bur head may be designed for a specific application such as wax cutting. While the basic shape would stay the same, its use would be different. The diversity of bur shapes offers users great flexibility. A jeweler, for example, might use two or three different shape burs to complete a task.
Because there are so many bur shapes and sizes, standard numbering systems simplify identification and comparison of burs. Each bur is assigned a specific ISO (International Standards Organization) 15-digit number. The number represents each characteristic with five sets of three digits each, as follows:
ISO XXX XXX XXX XXX XXX
First three digits = the material the cutting tip is produced from (carbide, diamond, etc.)
Second three digits = the type of shank (right angle, friction grip, etc.)
Third three digits = the head shape (round, inverted cone, etc.)
Fourth three digits = the cut or grit of the head (crosscut, coarse grit, etc.)
Fifth three digits = the head diameter (010, 012, etc.)
Therefore, the bur shape can be easily identified.
Following are links to individual bur shape descriptions:
▶
Bearing Shape Information
▶
Bud Shape Information
▶
Cone Shape Information
▶
Cup Shape Information
▶
Cylinder Shape Information
▶
Disc Shape Information
▶
Flame Shape Information
▶
Inverted Cone Shape Information
▶
Pear Shape Information
▶
Round Shape Information
▶
Stone Setting Shape Information
▶
Taper Shape Information
▶
Torpedo Shape Information
▶
Wheel Shape Information