Welcome to Pfingst & Company!
Located in South Plainfield, New Jersey, Pfingst & Company, Inc. was founded by Adolph Pfingst in 1905, when they started importing and distributing the well-known BUSCH™ burs. Today, Pfingst & Company is known for delivering the industry's most respected and advanced products, instruments, and tools for
jewelers
,
dentists
,
artists
,
woodcarvers
, and
hobbyists
.
Pfingst has earned its reputation as an industry leader through its commitment to providing only the best quality products and services to its customers. Our policy of continually providing items commensurate with practical and forward-looking applications has been a constant objective of the following generations. Pfingst is dedicated to understanding the needs of today's jewelers, dentists, and artists and is committed to ensuring that its product line always aligns with those needs.
Pfingst features products from
Busch
,
Horico
, and
Edenta
, as well as
flexible shaft machines
that are widely used by jewelers, artists, and craftsmen. Busch manufactures abrasives, carbide burs, and steel burs. Horico produces diamond rotary instruments, sintered diamonds, and diamond abrasives. Edenta offers specialized, silicone polishers. Pfingst products are available from reputable dealers throughout the USA and Canada, as well as in many overseas countries.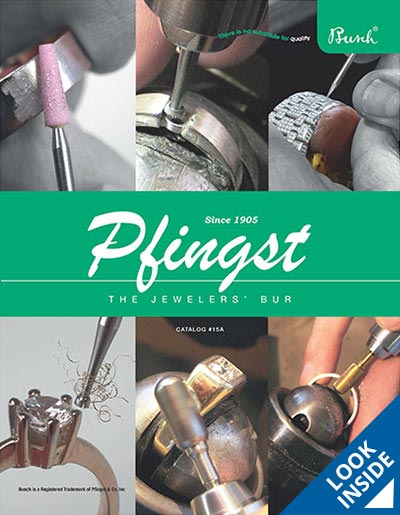 Pfingst Products include:
Tungsten Vanadium Steel Burs
Super-carbide Burs
Diamond Burs
Sintered Burs
Edenta Silicone Polishers
Goldstar Polishing Systems
Pfingst Micro-grinders
Flexible Shaft Machines & Accessories
Wood Carving Bits & Power Tools
Wood Carving Handpieces
Stainless Steel Instruments