Ordering Information and Recommendations
Safety and Hygiene Recommendations for Rotary Instruments
Busch - Figure 231F
Carbide Cutters
This is a Busch carbide saw cutter.
FIG 231F CARBIDE CIRCULAR SAW 0.2MM
After preparing the holes in which the gems are to be set for the pavé setting with the twist 4205S and the corresponding round bur 1AU, then a clean cross-wise cut is made in the spaces with the new circular saw 231F/FL/FLX.
Only the chatons remain for the final setting of the gems. Make your choice between the three flattest working part lengths, available in 0.2, 0.3 and 0.4 mm which is most appropriate for your high-grade work. The special serration of this circular saw gives the material a brightly shining surface in the bottom of the cut, for instance in platinum, titanium and steel, as well as in gold, silver and their alloys.
Recommend speed: 7.500 - 30.000 r.p.m.
Pave Settings - 231F.pdf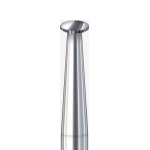 ITEM ORDER NUMBER:
Size
ISO 500 ... ... ...
D1
L

2231F23
023
2,30 mm
0,2 mm
Busch® is a registered trademark of Pfingst & Company