Ordering Information and Recommendations
Safety and Hygiene Recommendations for Rotary Instruments
Busch - Figure 4205S
This is a Busch carbide twist drill.
FIG 4205S CARB TWIST DRILL
Due to its short working part, the twist drill 4205S is an easy guiding tool to produce precise, uniform holes in very narrow spaces as necessary for tight pavé settings. When working on jewellery materials which are difficult to cut, such as platinum, titanium and steel or gold, silver and their alloys, numerous holes can be drilled with constant precision after centering, using this tool made of finest grain carbide.
Recommended speed: 3,000 - 5,000 rpm
Pave Settings - 4205S.pdf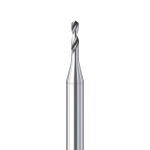 ITEM ORDER NUMBER:
Size
ISO 500 ... ... ...
D1
L

24205S07
007
0,70 mm
7,5 mm

24205S08
008
0,80 mm
7,5 mm

24205S09
009
0,90 mm
8,0 mm

24205S10
010
1,00 mm
8,0 mm
Busch® is a registered trademark of Pfingst & Company